Auction Insights
A Year to Treasure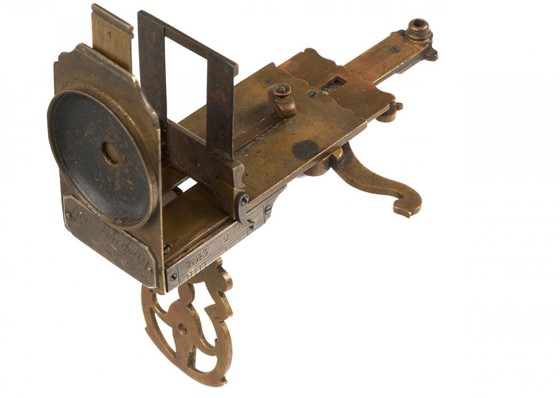 As we approach the end of the year I look back on some highlights from the Autumn Fine Art Sale and consider the ups and downs in demand for antiques and collectables in an uncertain climate.
The most talked about item to go Under the Hammer in the auction was also one of the smallest.  Selling for a huge £8,000 to a Dutch collector, a tiny brass simple microscope, so small it sat in the palm of my hand, was made in 1743.  True, it may not look much like most people's idea of a microscope but in its day it was far from cheap.  It is, unusually, a combination of brass and silver, the precious metal used for the scale of divisions and nameplate of the maker George Lindsay of London.
An exciting discovery at a recent valuation event in Melton Mowbray our initial, on the spot cautious estimate was £800-1200, made before noticing, almost hidden from view, its early serial number 16.  It was intended to be mounted on a stand and would originally have had a number of accessories.
Vintage optical instruments of all ages are selling for high prices and in the same sale a small group of Victorian to mid 20th century camera lenses sold to a host of English and foreign buyers for almost £8,500.  Not so long ago the whole lot would have been worth £300-500.
Another auction lot to soar, if no longer literally, was the 1939 propeller from a World War Two RAF Hurricane aeroplane.  From a garden shed in Long Eaton, where it had been since the early 1960s, it fetched £2,000.  Not in the greatest condition it was bought by the leading specialist restorers of vintage aircraft Hawker Restoration, a fitting home.
Wondering if it will ever take to the air again I was relieved to hear the buyers confirm that it will not.  With sympathetic conservation the propeller will become a treasured and totemic symbol of the Battle of Britain.
Raleigh designer Alan Oakley's famous 'back of envelope' sketch for the bestselling Chopper bike sold for £850 to a West Midlands collector.  The same collector also carried off the following lot, a selection of Raleigh factory reports, blueprints, letters and even a photograph of Alan showing Princess Margaret the firm's gleaming range of modern cycles on a royal visit to Nottingham.
The famous late restaurateur Imogen Skirving, who tragically died in a road accident in 2016 had a keen eye for fine art and interior design as anyone who has been to Langar Hall will tell you.  A lovely bright picture of the sunny garden at Charleston (the Sussex home of the Bloomsbury Group in the early 20th century) by Vanessa Bell was acquired by the 26 year old Imogen from a London gallery in 1963.  It was snapped up by an online bidder for £14,500.
I hardly imagined one of Mellors & Kirk's catalogues would feature a glorious picture by Rubens but the opportunity came when a pair of silver candlesticks made in Antwerp in the 1630s arrived at The Auction House.  Bought recently at auction for almost a song, the coat of arms with which they were engraved was that of the Goubau family, patrons of the great painter, leading citizens and Burgemeesters of Antwerp with several homes.  Nothing is known of the candlesticks history for the intervening 350 or so years but the condition was so good that they could have been made last week.  They would have adorned the altar of a private family chapel of the Goubau and sold to a 'phone bidder for £11,000.
A fearsome weapon from a house in Nottingham Park was the Fijian rootwood beaked battle hammer or totokia.  Known to date from before 1900 when it was acquired by an ancestor of the seller, it made £1,800.
One very lucky little boy (I assume) would have been thrilled with a top quality Bassett-Lowke locomotive.  Not just any old engine but the Flying Scotsman and nor was it clockwork powered but the most expensive version with an AC electric motor.
Still in its box I doubt it had ever been run round a layout.  It went to an appreciative new (very grown up) owner for £800.
Low interest rates and financial instability have driven up prices for fine art and many collectors' items and that looks set to continue.  So too does the continued arrival of items of greater and lesser value, historic or artistic interest and just the odd and unusual from downsizers or families including those trying to fund care for the elderly.  But with much better information owners demand not only a friendly, professional service but considerable expertise, which is essential for persuading those that buy online to bid with confidence.
Auctions are endlessly interesting, exciting and often very entertaining in a theatrical way but not or at least should not be chaotic or comical.
This is an industry, as are many others, which cannot prepare for Brexit or non-Brexit whatever dire warnings to do so emanate from the Bank of England or politicians.
Auctioneers exist to obtain the highest possible price for the seller and it is (usually) up to them when they decide to sell!
< Back to Auction Insights