Auction Insights
Auction Fever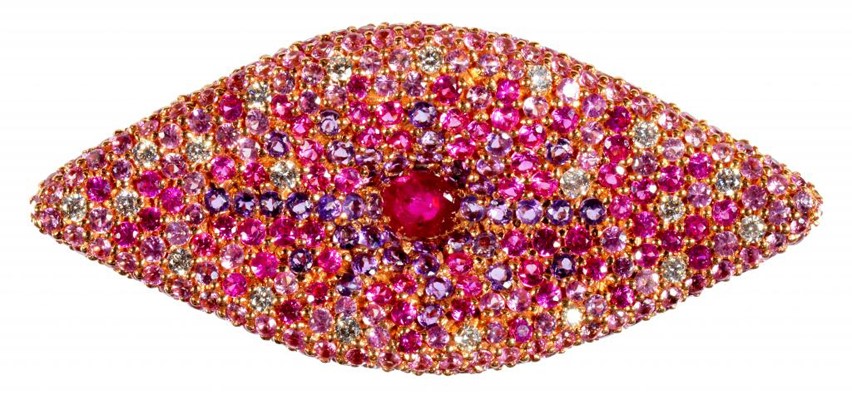 The value placed on rarity has been much in my mind this week.  Last month's hugely successful Fine Art Sale saw demand reach fever pitch for the best items which included jewellery and other property from, amongst others, the late Patricia, Lady Hobday of Ravenshead.  Is such demand only because of scarcity, or something more profound?  I am convinced that people really can catch 'auction fever'.  Why else do Flog-it! and other antiques shows attract such huge audiences?  It is because auctions can be pure theatre.
Lady Hobday, who died earlier this year, was the widow Sir Gordon Hobday (1916-2015) the   distinguished pharmaceutical chemist, a former Lord Lieutenant of Nottinghamshire and also Chancellor of the University of  Nottingham, his alma mater.  Mellors & Kirk will be selling his collection of pictures in November.
Many of the pieces that Lady Hobday and her husband acquired were bought on their travels around the world and included many eye catching and unusual pieces.  Her emerald and diamond heart shaped pendant dating from around 1900 sold for £3,500 and a tanzanite pendant went for £1300, whereas a modern gold bracelet by the leading contemporary jeweller Roberto Coin sold for £1700.  An unusual 'lips' pendant was one piece the like of which you won't see anytime soon.
The mementos of Ratan and Rajan Nehru which recently featured were mostly bought by an Indian gentleman who flew over specially for the sale.  Rajan's Chinese jade ring made £800 and a diamond solitaire ring sold for a much more than expected at £3200.  Her beautiful Chinese yellow silk jacket sold for £500.  As I write this many of her items, including the jacket, are now back in India.
Dating also from the 1950s the Mavagissey Pottery Heals' advertising nodding or rocking figures discussed in an earlier Under the Hammer, went for £600.
I was sorry to say goodbye to the 19th century tobacconist's shop figure of a Scotsman.  Half life sized, he had real presence and made a great catalogue cover.  He went to a bidder from 'up north' for £3,800.
Almost daily I meet people both at the Auction House and when out and about valuing things that families have had for generations, but also some of which they have only just bought and sometimes  for  very little indeed.  To take just two  examples, one lady I met a week or two ago bought for a pound at a summer garden fete near Nottingham a small celluloid tape measure – such as might be found in a sewing box – designed as the head of a man bearing a passing resemblance to Lord Peter Wimsey.  It was in fact an unusual example of a political caricature and depicted Joseph Chamberlain MP (1836-1914).  A throwaway gimmick that would have cost a penny or two – it sold at auction for £100.
A chair picked up for only £200 at a Lincolnshire auction a couple of  months ago was a  distinctive type of 9th century Scottish seat furniture made in Ayrshire.  The auctioneer had described it as "Lincolnshire", presumably because it turned up there.  Correctly identified by Mellors & Kirk it sold for £1000 to an online bidder from Cupar, Fife.
Accurate, informed descriptions encourage bidders from around the world who source directly at auction objects that would in former times have passed through many hands each taking a profit.  That is just as true of an item worth £100-200 as one valued in the millions.  It is exciting when, as happened at the September Fine Art Sale, a silver coin-sized pass or ticket from the unlikely named town of Curepipe, Mauritius sold to a collector bidding live online from that tiny tropical paradise.  The internet means that there is now a buyer out there for just about anything.  I am amazed when people tell me they have never been to an auction.  Why not? Auctions can be great fun and auctioneers are generally  much more 'user friendly' than when I started forty years ago, so do not worry about ending up with an enormous wardrobe by scratching your nose, or twitching at the wrong moment.  Across the UK regional salerooms offer a friendly, professional service and ae approachable,  something which, regrettably, is not the first thing that comes to mind  when thinking of some the larger multi-national fine art auctioneers.
I am convinced that it is emotion, not just rarity that determines the demand at auction   which is just as well, as I read in one national newspaper this week that "Nigel has long been flirting with extinction".  The Government's Office for National Statistics declared that last year no child was given the name but,  hopefully, I'll be around for a while longer.  Whatever next!
< Back to Auction Insights