Auction Insights
The Greatest Showman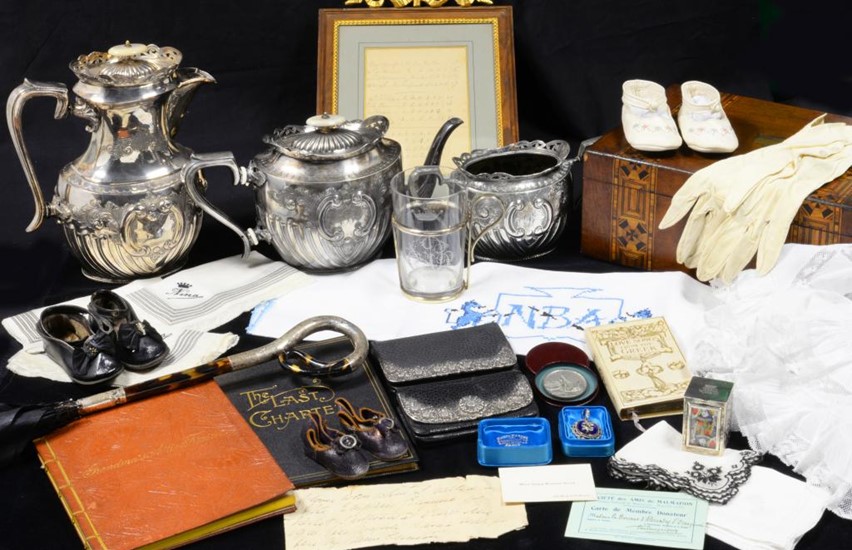 Pulling in the crowds this week at cinemas in Nottingham and around the country 'The Greatest Showman' starring Hugh Jackman as P T Barnum, is a massive hit grossing almost $400 million in only a few weeks.
The movie is full of death defying stunts, memorable music and romance, all of which means that there is, at The Auction House, a certain frisson around a group of newly discovered memorabilia of the great man himself. 
With a racy script and brilliant cinematography, the film is highly entertaining but not historically accurate. Barnum would though have been pleased.  His colourful real life story is full of  twists and turns and ups and downs. Amongst the objects, which belonged to his second wife Nancy who died in 1927, are a pair of miniature shoes of General, Tom Thumb. One of Barnum's star attractions at his freak shows, standing all of 99cm tall, the General whose real name was Charles Sherwood Stratton (1838-1883) was one of Barnum's famous attractions.  The shoes are only 6.5cm long and are made of fine dark purple leather, wool lined and have silvered metal buckles.  Tom proved a hit with Queen Victoria who saw him twice and he entertained the three year old Prince of Wales, later King Edward VII. 
Many of the items were bought for Nancy by P T Barnum at the time they occupied the new house 'Marina' that he had built in Bridgeport, Connecticut.  There are two fine Tiffany & Co silver and sealskin purses,  dating from 1875-91. One is inscribed under the flap Mrs P T Barnum, Bridgeport, Conn and they have survived in almost unused condition. 
Nancy had nearly as colourful a life as Barnum. Growing up in Manchester, she married the 64 year old showman when she was 24, a few weeks after the death of his first wife Charity.  After Barnum's death she had two further husbands, one of whom was a French nobleman.
There are such personal objects as Barnum's tea and coffee pots and sugar basin, perhaps surprisingly made of electroplate, but bearing his initial, a book 'Grandma's Attic Treasures' that he has inscribed in ink "To my mother in law Fish with wishes for a Merry Xmas P T Barnum 1887" and copy No 1 of the rare short account of his life that Nancy penned and was privately published in Connecticut in 1893, immediately after his death.  
A master of self-promotion, Phineas Taylor Barnum, who is thought to have coined the phrase "There's a sucker born every minute" led an eventful business and personal life which spanned nearly the whole of the 19th century.  His is a classic example of an American rags to riches story.  Never afraid to take a risk he offered the singer Jenny Lind, the Swedish Nightingale a fortune without ever having heard her sing a note, to tour the east coast of America and the Deep South.
Chief  attraction of Barnum's 'Greatest Show on Earth' was Jumbo the Elephant. Jumbo was a much loved feature of London Zoo where he arrived in 1865 and there was much public displeasure when he was sold to Barnum and taken to America in 1882, only to be accidentally killed by a railway locomotive three years later.
Barnum combined his circus with that of Cooper & Bailey, its title incorporating "The Great London Circus Sanger's Royal British Menagerie and the Grand International Allied Shows United".  When Barnum died in 1891 Nancy sold his share to J A Bailey.  In 1907 The Barnum & Bailey Greatest Show on Earth was purchased by Ringling Brothers who continued to tour as a traditional circus until last year.
The Barnum & Bailey Circus visited Nottingham in May 1899.  The Circus consisted of 800 people, 400 horses, 20 elephants and numerous camels, lions and sundry other exotic animals including 'Johanna the Giant Gorilla'.  Transported by rail from town to town the Circus usually stayed for only a couple of days.  The grand procession from the railway station to the showground was over one mile long, taking 20 minutes to pass by.
Before the show those attending were expected to view the menagerie and human freak show.  No-one, including it seems the freaks themselves saw anything wrong in it, however repugnant it undoubtedly was.  On the contrary, the many male and female 'freaks' were used to being gawped at, ridiculed or worse and seemed to enjoy the life and their celebrity status.  The Circus show which lasted about an hour and a half took place in three rings simultaneously and afterwards, for an extra charge, it was possible to stay for something called a 'Ground Vaudeville Entertainment', not bad for a total cost of between the equivalent of 7 and 25p.
From the time of Barnum's death Nancy was paid an enormous annual income from his trustees such as the $40,000 she received  in 1925. Nancy's last husband the French baron Lucien d'Alexandry d'Orengiani also died shortly after the couple married.   Living in considerable splendour in Paris the items in the Sale from this period in her life include French fans, monogrammed and crested silk handkerchiefs.  She was apparently very keen on gloves because there are many pairs of the finest Parisian kid leather gloves of both opera and elbow length.  One of these still bears an old label in Nancy's handwriting "Gloves worn when I called on the Empress Eugenie August 1900. Her Majesty having sent for me".  We also discovered amongst the many hundreds of her fine cotton and silk 'whites' two pairs of very fine quality unused baby's shows, a poignant discovery amongst the effects of a childless woman.  Could it be that in later life Nancy came to regret her life choices?
The collection will be sold in a Sale of Historic Documents and Antiquarian Books at Mellors & Kirk on 10 May.  The estimate is £3,000-5,000.
< Back to Auction Insights