Auction Insights
British Studio Pottery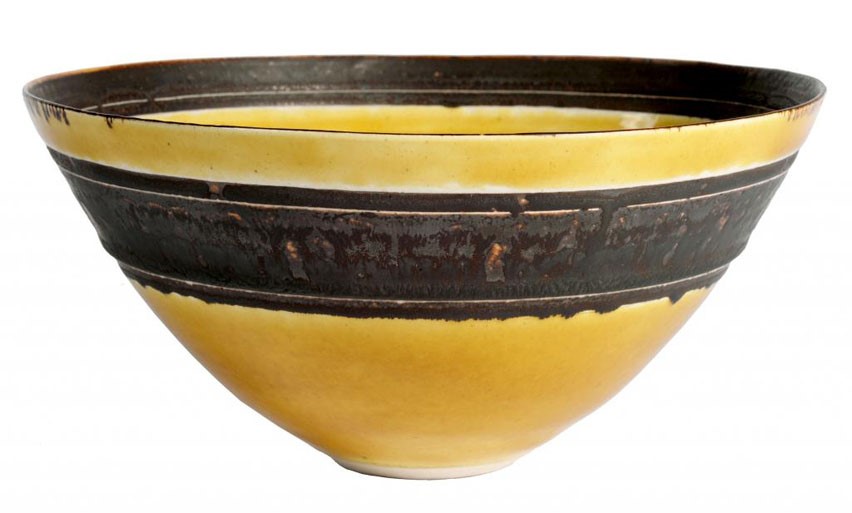 A mini treasure trove of ceramics by two of Britain's most significant potters bought cheaply in Nottingham over 50 years ago is to be sold Nigel Kirk tells their story.
The British Studio Pottery Movement is barely 100 years old.  Born of the Arts & Crafts Movement its 'Father', Bernard Leach (1887-1979) possibly one of the ten most influential potters in history, brought to England techniques he had learned in Japan.  His many followers continue to this day.  Pots no longer, but works of art, sculptural forms in a myriad of different forms, types of clay and decoration, the prices for the works of the best have recently rocketed. There are no bigger names in this field than those of Hans Coper (1920-1981) and Lucie Rie (1902-1995)  both of whose work was frequently exhibited and sold in Nottingham in the 1960s & '70s.
Priced at rarely little more than £50 a 30cm Cycladic or 'arrowhead' form by Coper was sold at auction last month in Exeter for £305,000, more than 30 times the estimate. Dating from the mid 1970s it was an example of what is generally considered Coper'smost fully developed pure sculptural form and is rare as few were made because by then he was incurably ill.
Imagine therefore my excitement when a local gentleman contacted me about his small but beautiful collection of work by these twin giants of British Studio Pottery.
In June Mellors & Kirk will sell no less than eleven examples by Hans Coper and Lucie Rie, all of which were bought from exhibitions at the Midland Group in Nottingham in the '60s.  They have remained on the owner's shelves ever since.
A Lucie Rie yellow bowl still bears the original label with the price £13.  It is estimated at £5,000-7,000 but could make much more in the present febrile market.  A classic Coper stem cup with disc, 10.5cm high, has an estimate of £7,000-9,000 and his 27cm elongated vase dating from around 1967 is estimated at £8,000-12,000.
Although their names are always linked and they were the closest of friends their pots, which are instantly recognisable are quite different.  Both were perfectionists, throwing on the traditional potter's wheel and fastidious in every aspect of the creative process.  Their work has the hallmark of originality and was always appreciated by connoisseurs, but it is only recently that its appeal has been more widely recognised.  Few living potters are as well known, honourable exceptions being perhaps Edmund  de Waal and the Kenyan born British woman Magdalene Odundo (born 1950), both of whose work is hardly ever offered for sale and is also extremely valuable.  Living or dead, these and perhaps only a handful of others can be regarded as not only potters but distinguished contemporary artists commanding prices to match.
Hans Coper and Lucie Rie were born into well-off, or in her case extremely well-off, Jewish families, in Chemnitz and Vienna.  To escape the Nazis they fled to London in 1938 & 9.  Hans was particularly lucky to escape thanks to the help of Quakers, only to be interned as an enemy alien on arrival.  Lucie was already an established potter, her work being widely exhibited abroad before the war. When she first met Hans in 1946 she was working from a studio in Albion Mews, London.  From the mid-1950s until 1971 their work was often to be seen singularly or together at the Midland Group's exhibitions in Nottingham.
Although so different in style both potters combined a seemingly effortless mastery of technique with a deep awareness of the capability of the material – clay of different types and uranium and other oxides, carbon and other elements for glazes and pigmentation.  Perhaps that is what Omar Khayyam was getting at when he observed in his Rubaiyat  'Tell me then, Who is the Potter, pray, and who is the Pot?'
People sometimes describe a work of art as 'timeless', but I am not so sure.  Music or literature can transcend time in its relevance, or the emotional response of succeeding generations.  Fine Art (painting and sculpture) by comparison is, I suggest, seldom 'timeless' and the Decorative Arts (most ceramics and much else) hardly ever.
This matters because when a small number of influential people believe, or choose to describe an object as imbued with this mysterious quality the result is all too often a steep rise in the price.
It is a field in which collectors and enlightened museum curators were active early, acquiring pottery at what now seems bargain prices, well before they were inflated by the booming market for contemporary art.
Nottingham Castle is one of the few regional museums to have an outstanding collection of British Studio Pottery.  Formed by husband and wife Dr Rollo and Marion Ballantyne, the 370 piece collection, begun in 1971 was presented to the Castle Museum in 1996.  It contains superb examples of Coper & Rie's ceramics and all the other leading 20th century British potters, but has a surprisingly low profile.  Let's hope it is given the setting it certainly merits in the 'new' Castle when it re-opens.   Rollo Ballantyne was born in Nottingham in 1917. Marion died last year outliving him by 20 years.
With their wonderful glazes and elegant shapes the small bowls and vases appear understated.  Would you give them a second look on the shelf of a charity shop?  That's the difference between looking and seeing!  These few pots bought for very little could easily sell for £100,000 or more.
< Back to Auction Insights