Auction Insights
Two sides of the Coin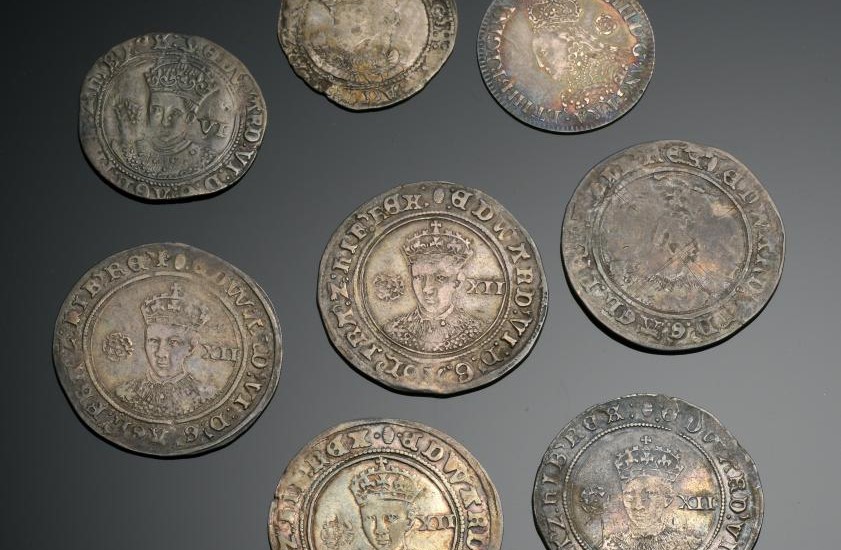 The soon to be HRH Princess Henry of Wales, Meghan Markle will never forget the warmth with which she was welcomed by the people of Nottingham when she and Prince Harry bestowed a special honour on the city by making it the destination for their first visit as a couple.  Well-wishers in their millions from around the world will be glued to their screens on May 19th, the Royal Wedding Day.
Swept along on such a powerful tide of emotion it is unsurprising many will wish to commemorate their fairy tale romance and marriage with a souvenir, ranging from a set of stamps to a gold coin costing thousands.  After all the excitement has died down will these expensive gold coins appreciate in value?  I can confidently predict they will not.
At Mellors & Kirk we have just received a big collection of similar gold coins struck at the Royal Mint and elsewhere on the occasion of recent royal milestones.  They include the death of Dianna, Princess of Wales, the Queen becoming the longest reigning monarch and the birth of Prince George.  The most recent, a £5 piece was minted only last year and commemorates the Queen's Sapphire Jubilee.  Such is the demand worldwide they can be expected to sell well at auction and certainly achieve much more than the so-called 'gold price' offered by almost all high street jewellers and pawnbrokers.
Collected by a local man who recently died, the coins would have cost him £150,000 at least in total.  Even in their presentation boxes-within-boxes the whole lot would fit into a normal sized carrier bag.  They have all been struck in 22ct gold and are genuine, but worth only around a quarter to one third of the retail price.  That will come as rude shock to many owners of similar coins but is explained by all the fancy packaging involved, hefty costs of promotion, relatively low cost of manufacture and a whopping profit margin.  Fair enough – its business some would say and these days the Royal Mint, just as the Royal Mail is run on a commercial basis.  The products of both proudly feature the Queen's head and they trade on a unique heritage, one based on excellence and an integrity akin to the Bank of England.  The lavish advertisements that will bombard us as Harry and Meghan's great day approaches will employ every nuance and subtlety in the marketer's armoury to persuade us to make a costly purchase.  Those that buy such overpriced royal gold souvenir issues are not numismatists – seriously knowledgeable collectors of old coins – but those will little and usually no knowledge of the subject.  This and perhaps the understandable but vague notion that as they get older they would like to leave the next generation something 'special' makes those who in other respects are savvy, sensible spenders go weak at the knees.  They would be better advised to hand the cash over to their heirs directly, whom I can assure you will find a much better use for it than, for example, a 2012 'Prince Philip' gold £5 piece!
Several of the gold coins are so big – up to 5ozs (150g) – that they are coins in name only.
Very few royal souvenirs were regarded as investments by former generations. The reason so much coronation and jubilee commemorative material survives from the 19th & 20th centuries is because the owners were both patriotic and sentimental.  To them all the members of the royal family (without exception) were equally respected in what was a hugely deferential society.
Even as late as 1953 it was much the same.  An example is the inexpensive 1953 Queen's coronation china cup and saucer which a lady brought in last week.  I hardly had the heart to tell her it was worth next to nothing, especially after she told me that she was given it when a child at school and had treasured it ever since. 
On its website the Royal Mint currently offers a glittering range of coins and gold bullion and no longer merely the annual coin set.  You may be quite taken with the 2018 Lunar Year of the Dog coin or what about the House of Windsor Centenary 2017 gold £5 piece for only £1,975?  It comes in a shiny walnut box and is tempting but when I checked the spot price of the metal you're getting about £900 worth of gold for your money.
Only seldom did the Royal Mint issue a commemorative piece before the 1960s and special proof sets normally appeared only in the year of a coronation.  That for King George VI in 1937 has tripled in value in the last few years.  A pristine example will now cost around £10,000.  His predecessor, the controversial Edward VIII abdicated after a few months but not before enormous numbers of commemorative items had been produced, except certain coins.  Mellors & Kirk sold an exceedingly rare thr'penny bit bearing his head for £24,000 in September 2013.
The study of coins can be very rewarding and it is one of the few traditional hobbies that is growing in popularity.   The prices for fine coins are rising fast and those of England in particular, which are considered classics, more than most. 
In June Mellors & Kirk will be selling the remarkable lifetime collection of the late William Terry whose day job was a museum curator.  The many treasures in the collection include a clutch of superb 1550's silver shillings of the boy king Edward VI and a stunning Queen Victoria gothic crown
English gold coins are exempt from Capital Gains Tax, something which foreign gold coins such as Krugerrands are not.  The Royal Mint was, according to its own registered slogan 'Established for Tomorrow' but whether you choose to buy gold coins from it or its rivals 'tomorrow' may be a long way off!
< Back to Auction Insights