Auction Insights
Cracking the Conundrum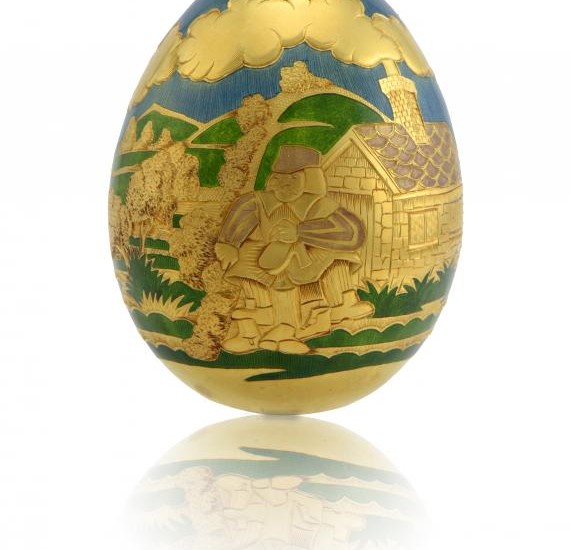 A solid gold Cadbury's egg from the 1980s was the glittering prize for cracking the 'Conundrum' competition.
Is £10,000 a lot of money? Judging by the frenzied excitement that gripped British treasure hunters in 1984, it was certainly thought so then.  Their quarry was one of the twelve gold eggs, cryptic clues to which had been buried in widely spread locations throughout the British Isles.
The 'Conundrum Competition', an armchair treasure hunt, was staged by Cadbury's. The accompanying book that contained the clues was billed as the 'Crème Egg Mystery'.  Not surprisingly it was carefully planned.  Launched straight after Christmas the campaign was aimed at boosting sales of the Company's range of Easter eggs in the run up to the holiday.  As often happens with such competitions, Cadbury's and its marketing agency that dreamt up the idea, got rather more publicity than they bargained for.
All twelve eggs were made of 22ct gold and enamelled with subjects from the book.  They are in the manner of the famous imperial Russian Easter eggs that master jeweller Faberge made for the Tsar and Tsarina in the years leading up to the revolutions of 1917.  The Cadbury's eggs were made by Crown Jewellers Garrards and were individually designed by Alex Styles (1922-2017).
They are about the size of a big goose egg, weigh around a quarter of a kilo and boasted a then retail value of £10,000 each.
Alex Styles was one of the country's foremost silversmiths, a craftsman steeped in the Arts & Crafts tradition.  He joined Garrards in 1952 where he remained until he retired in 1987.  At Garrards he was primarily a designer, overseeing an enormous number of private commissions for mayoral chains and other civic regalia, large and impressive ceremonial silver and other such one-offs for government, corporations and the very rich.  They reflect the best of contemporary silver design, the pieces were often heavy, frequently gilded and usually enamelled.
Until recently I had never seen a Conundrum Egg but a local owner has decided to sell and this particular egg featuring the Giant will go under the Mellors & Kirk hammer in the Fine Art Sale on 7 & 8 March.  Hopefully, all we will be cracking is a record sale price which is a distinct possibility because by an odd twist of fate no-one knows how many of the twelve exist.
Faced with reports of gold fevered prospectors armed with trowels roaming private land and historic sites, Cadbury's decided to call off the competition early,  risking the ire  of frustrated hunters, with several of the eggs yet to be found.  One was discovered buried in a cemetery on the Isle of Man.  It is rumoured the company in wishing to 'draw a line' under the matter may have later quietly had melted down the remaining eggs and several owners of others are thought to have 'weighed them in' during a spike in the gold price.
It will be interesting to see what 'The Giant' makes 34 years later.  The estimate is £8,000-10,000 and the only other example that has sold at auction in many years was the 13th extra or 'secret' and much heavier egg that was reserved as a prize for one lucky Cadbury retailer.  It sold last July for a much more than predicted £17,200.
The picture book, a copy of which will be sold with the egg features almost surreal illustrations that are an integral part of the clue and was created by author and illustrator duo Don Shaw and Nick Price.  It is reminiscent of a children's annual.  The Giant features everyone's idea of how a giant should appear, a huge man gazing down from on high carrying a shovel over his shoulder and wearing ten league boots as he strides through a valley framed by an arch of clouds.  So convoluted were the twelve conundrums, in the form of short stories accompanied by poems of four line stanzas, that they would have bamboozled a Bletchley Park code breaker.
In 1984 the average house was worth £37,000, interest rates nudged 10% and petrol cost 40p a litre, so £10,000 worth of gold was an attractive prize.
The egg hunt unashamedly borrowed from the 1979 picture book Masquerade, by author and illustrator Kit Williams.  He secretly buried a beautiful jewelled gold hare in the grounds of a country house in Bedfordshire.  Hundreds of thousands of members of the public were gripped by the story and even after the hare was discovered in 1982 people continued to search in vain.  That mystery too was not without controversy, the discovery subsequently being tainted by an 'insider' scandal, through no fault of Williams, and the poor hare was subsequently seized and sold by liquidators at Sotheby's in 1982.
Even though many competitions of this type seem to take on a life of their own with all manner of unintended consequences, they still seem guaranteed to drum up business.  Only last week another great British brand Marmite launched a treasure hunt for an 18ct gold – guess what – jar of the sticky brown stuff!
< Back to Auction Insights