Auction Insights
Mouse in the Auction House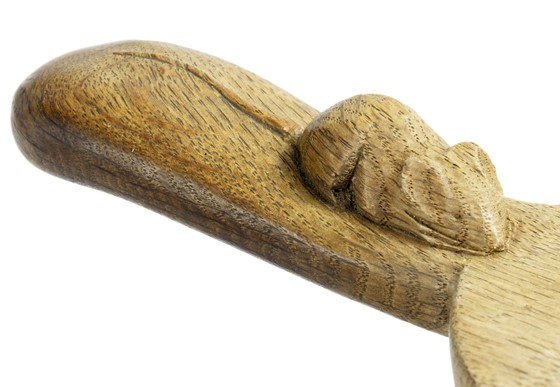 From country cottages to the most illustrious schools and great cathedrals, including Southwell Minster and other Nottinghamshire churches, you can see his 'Mouse' signature.  It's a nice touch, and makes for a whimsical contrast to imposing architecture or those who take themselves too seriously.
Both as a designer and maker Robert Thompson, better known as the 'Mouseman', occupies a unique place in the distinguished history of English furniture.  He attracted numerous followers and imitators but was a true original.  Everyone, it seems has heard of the Mouseman.  But what of the man himself and why is his furniture so sought-after?
Two reasons stand out.  The excellence of the craftsmanship is instantly noticeable because of the unfussy, simplicity of his homely and practical chairs, tables and bookcases.  The beauty of seasoned English oak and especially the silky sheen of a beeswaxed table top with its distinctive, ever so slightly undulating adzed surface epitomises the Arts & Crafts ideal.
Mouseman furniture is famous for being handmade in a small picturesque village workshop by about 30 to 40 craftsmen and apprentices.  An individual craftsman was responsible for seeing through from start to finish whatever it was he was asked to make.  Even in the workshop's earliest years machinery wasn't banned altogether but only used for 'roughing out'.
I have long been interested in the nature of the Yorkshireman behind the mouse.  Robert Thompson was born at Kilburn in 1876.  The North Yorkshire village is dominated by the giant white horse carved onto the hillside of South Bank.  He was the son of the village carpenter and stonemason.  His big break came in 1919 when, still a virtual unknown, he was commissioned by the Benedictine monks of Ampleforth to create what is now regarded as one of his most important surviving interiors, the College Library.  Mellors & Kirk sold a rare monks chair and desk of this early period in 2015 for £5,700.  The monk's chair went home when it was bought by the Robert Thompson Craftsmen Museum.
As with all the best ideas Thompson invented the mouse 'hallmark' by accident.  He is believed to have overhead one of his workman grumbling about being "as poor as a church mouse" and in a moment of idleness found himself carving one.  Thompsons men take around 45 minutes to carve the mouse and of course no two are quite the same.
From the mid-1930s and especially in the post war years the workshop was continually busy with orders from individuals and institutions forming an ever longer waiting list.  One particularly big commission came from Southwell Minster in 1949, there are in all 12 mice to be seen in the Minster which one day I hope I might spot.  His work can also be seen at St Mary's churches in Bulwell and Bingham and throughout the region.  The original Mouseman died in 1955 but the workshop continues making to his designs with no hint of the contemporary.  For many, that is the reason for its continuing appeal.
Mellors & Kirk also sold a set of Mouseman chairs made for Nottingham's Bluecoat School and only this week there was a 1970s Mouseman cheese board to be seen at The Auction House.  With a mouse carved on the handle, it seemed especially apt and I hope delighted the winning bidder when it made £190.
Mouseman furniture also appeals to collectors because it is so firmly rooted in the tradition of the 'Age of Oak', extending from the Medieval period through to the late 17th and early 18th centuries, when the wood was virtually the only furniture timber.  Unlike the present day, furniture styles then evolved very slowly often over several generations, as most joiners and carvers worked in remote rural areas, largely oblivious to changes in fashion.
The public may one day fall out of love with Mouseman furniture because a piece made today is hardly any different to one made by the Mouseman himself in the 1930s but there is no shortage of bidders at auction for his quintessentially English, sorry Yorkshire, vernacular  furniture.
< Back to Auction Insights