Auction Insights
'Nods & Rockers'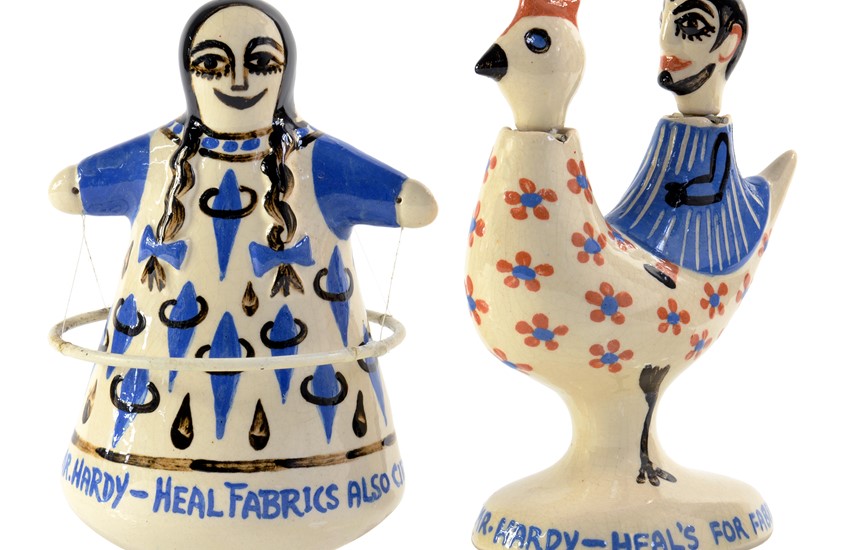 This week Auction Insights re-visits the early '60s with our very own 'Nods & Rockers'.  No that's not a misprint, as Nigel Kirk explains
Do you look forward to receiving promotional corporate gifts?  Maybe not, but it seems that any large organisation, from charities to big businesses are now on this particular bandwagon.  It has grown into a £78m a year market in the UK alone.  Almost half of us that are in work receive some form of gift from an existing, or hopeful supplier.  Such few as I receive, be they cheap pens or wine vouchers, neither of which interest me or, even worse, Christmas cards from companies, are wasteful and if not tantamount to a bribe, at least dubious.
Corporate gifts are nothing new, but will they ever become collectors' pieces? That depends on two things – whether they are any good and if they appeal to collectors 50 years from now.
Last week a lady brought four strange but original and certainly appealing small pottery 'nodding' figures to one of our Valuation Days at The Auction House. They are all entirely handmade and decorated and were made by husband and wife Bernard and Moreen Moss for Heal's Fabrics in the late 1950s and early 1960s.  The owner had never thought for a moment they were of any value until one featured recently on the BBC TV show Flog It!  The Moss's made a new one each year in batches of 80-100 for stockists of Heal's fabrics.  These four are dated between 1958 & 62 and all were sent to a Mr Hardy, one of several wholesale and retail drapers of that name in Nottingham.
Not one but two nodding heads are a feature of that for 1960.  It is of a bearded man in a smock seated on the back of a giant rooster. Such figures now have a keen following with collectors vying to acquire the complete 'set'.  Given that they were made in small numbers and also because of their irresistible appeal to little children to make them nod or rock, it's a wonder any have survived.  That's why they are now worth around £200-300 each.
Heal's Fabrics Limited was founded in 1941, a subsidiary of the well-known London family firm of house furnishers, Heals. It was headed for a time by Sir Ambrose Heal (1872-1959) a leading figure in the Arts & Crafts movement.  Heal's Fabrics were at the cutting edge of innovative modern British textile design of the mid 20th century and its reputation was assured following a showing at the Festival of Britain in 1951, where it featured the work of such ground-breaking designers as Lucienne Day (1917-2010).
Bernard Moss and his wife moved from London's East End to Mevagissey, Cornwall in 1949 where they were to remain for the rest of their lives.  They died within a few months of each other in 2012.  He was descended from Russian Jewish émigrés and this heritage is apparent in his pottery.  He was keenly interested in automata and the small earthenware figures, simply yet boldly painted in blue and black (combined with a third colour, terracotta on the earlier pieces) all either feature a nodding, counter-balanced head or curved base, causing them to rock when touched.  Each has a dedicated inscription for the recipient, such as the rocking girl with a hula-hoop on which Moreen Moss has written YES, MR HARDY – HEAL FABRICS ALSO CIRCULATE.
In the early 1960s Bernard who had trained as a mould maker, stopped producing these annual moulded slip cast figures turning instead to domestic wares, thrown on the potter's wheel.
The 20th century pottery of Cornwall, in particular Troika from St Ives is highly collectable but all these Cornish wares should not be confused with the familiar blue and white banded jars and kitchen ware that was made much nearer to Nottingham, at T G Green & Co's factory in Swadlincote, Derbyshire.   
< Back to Auction Insights