Auction Insights
The Lions of Nottingham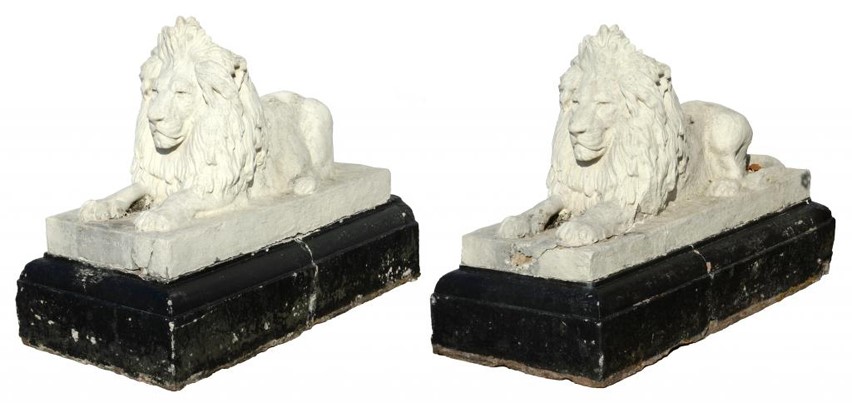 St Mark's Square in Venice has them.   Trafalgar Square has them and so too does Nottingham's Old Market Square.  Lions are everywhere, from the lovable cartoon characters to the majestic prides roaming the Savannah.
In unravelling the tale of a pair of 19th c marble lions I have deduced they have a tantalising connection from Nottingham's past.
Life sized antique marble lions are not the easiest things to move, but a local contractor, expert in shifting huge pieces of stone made light work of uplifting them from a suburban Nottingham garden where they have reposed for ages.  They now look splendid, if not a little intimidating, as visitors to Mellors & Kirk hastily step past them.
Initially I thought researching them would be straightforward.  The owner's family told me the lions had been an original garden feature of one of the grandest houses in The Park, homes to Nottingham's Victorian elite, built mostly between the 1850s and '70s.  They were still in situ, guarding the front entrance, when the family moved in the 1960s.
The sculptor's name, J PARKINSON LINCOLN is unusually prominent on the front of the base, facing the spectator, which suggests he was particularly proud of his creation.
So far so good except that no sculptor of the name is recorded.  Somewhat flummoxed, quite by coincidence a day or two later I realised that 'our' lions are uncannily similar to those in the famous 'Lion's Den', after Mortimer's Hole, Nottingham's most famous and bizarre cave.  Carved by an unknown local artisan in the finely grained Nottingham sandstone, the lions in their gloomy subterranean den share the same somewhat eccentric modelling of the body and doleful expressions.  Other contemporary related sculptures in caves, bedfellows as odd as John Wesley, Nelson and Lord Brougham have long been said to be carved by the Nottingham stonemason William Jennison.
Could Parkinson also be a jobbing stonemason, rather than a professional sculptor?
The coincidence was a valuable clue.  I have been able to establish the lions were carved by Joseph Parkinson.  He was born at Burgh le Marsh, Lincolnshire in 1853.  From successive censuses I have conjectured he was apprenticed to, or at least had some rudimentary practical experience in, a mason's yard, probably in Lincoln perhaps at the cathedral, for from that date until the census of 1911 his trade is shown as 'Stonemason'.  He was probably working for some years as a journeyman because he is recorded at Birmingham and in 1891 Chapel Allerton before finally settling in Nottingham.  In the censuses of 1901 and 1911 he and his family were living at 13 Derwent Street in the Meadows.
Since the lions are inscribed Lincoln they were presumably executed early in his career, perhaps as a demonstration of his aptitude, akin to a cabinet maker's apprentice piece.
The Nottingham lace manufacturer Thomas Herbert and his cousin William Herbert commissioned the extraordinary and ambitious carvings from the 1850s to the 1870s. The group forms an amazing subterranean folly. As originally conceived, the scheme for an unusual picturesque summerhouse-cave at the end of Thomas Herbert's sloping garden on The Ropewalk soon expanded to become a grotto and with its romantic notion of a Hermit's cave, followed by several tableau of ancient lore and peopled with the nation's long dead favourite heroes. 
Herbert's eccentricity reached his apotheosis in the Lion's Den, which soon became a Nottingham attraction.  The carvings are all the more strange, fantastical and distinctly comical because he employed stone and marble masons rather than professional sculptors, artisans instead of artists.  Such eccentricity can be one of the more appealing features of Victorian Arts & Crafts.
The British weather does not suit marble and the local lions have been much damaged by accident and climate.  They will be sold on November 29th with an estimate of around £1,000.  I hope that they find an appreciative home.
< Back to Auction Insights