Auction Insights
November Highlights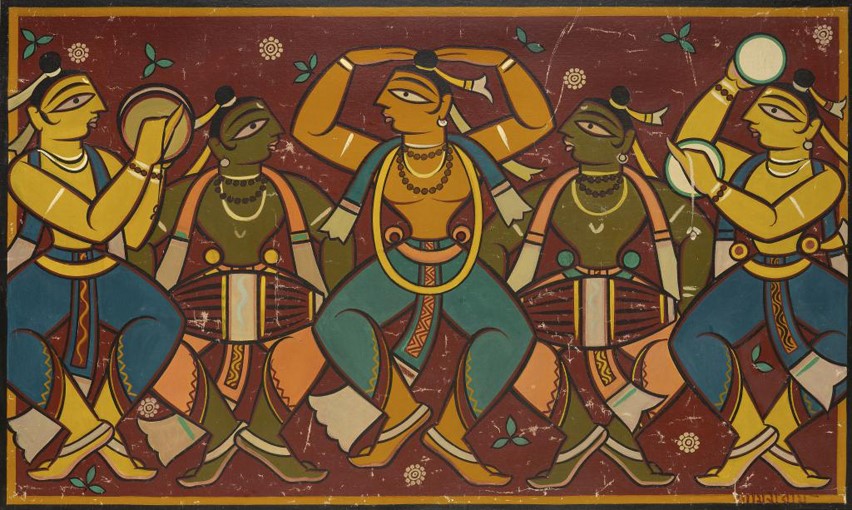 The highlight of a particularly busy few weeks at The Auction House featured Fine Art including the Collection of the late Sir Gordon Hobday, which went under the hammer late last month.
Fresh to the market and good condition were the factors that propelled prices for even 19th century works, which are not so fashionable with a new generation of collectors, than they were with their parents only a few years ago.
Sir Gordon, whom I met a year or so before he died aged 99 in 2015, certainly had a good eye for a painting and was a knowledgeable connoisseur of English watercolours.  At the auction the highest prices were paid not for these but for his three examples of the work of the important Bengali artist Jamini Roy (1887-1972).  He was one of India's most famous painters of the 20th century and Sir Gordon met him in India when travelling on behalf of Boots, of which he was a director and ultimately the Chairman.  Jamini Roy's 'folk art' style is instantly recognisable.  Painted in tempera, usually on canvas, the pictures are highly regarded by collectors in the Indian subcontinent but can also be found in museums and galleries around the world.  'Musicians' an unusually large work was not in pristine condition but sold for £29,520 (including the buyer's premium) against a cautious estimate of £5,000-8,000.  The much smaller works, Gopini and Durga with Laxmi, Ganesh and Saraswati both made the same price £6,765 (including buyer's premium).
The pictures collected by a Nottinghamshire famer who died a year or two ago included a beautiful watercolour of Woodcock by Archibald Thorburn (1860-1935) whose works are by far the most highly prized of all English ornithological artists.  Dating from the artist's best period the fully signed watercolour was in marvellous condition and made a hammer price of £9,500, almost double the lower estimate.  From the same property Jacques Carabain's View of the Market Place in Goslar, Germany went for £11,000.  H B Koekkoek's Scene on a Dutch Canal went for £8,500 and the rare appearance of no less than five examples of the work of Edgar Hunt, all featuring hens and chickens (the artist's speciality) were keenly contested, realising a total hammer price of just over £25,000.
I regret to report that The Exchange Arcade, a watercolour by Cyril Farey for architect T Cecil Howitt is not destined for the Castle, having sold for £1,600 to a buyer in the south of England.  Fred Hall's hauntingly still composition November 11th, a little picture that turned up unknown and unrecognised one Saturday morning at The Auction House moved many who viewed it.  The sombre subject matter made it perhaps more suitable for an art gallery than a living room wall but it still sold for a hammer price of £4,200.
A completely different item was a rare souvenir of the International Radio Telegraphic Conference held in London in 1912.  A model of Marconi's disc discharger, you would have been hard pressed to recognise it as a cigarette lighter but it was one of the 200 that Marconi presented to the Conference delegates.  Set on a base of turned Cornish serpentine – a nod to the famous location on the Lizard Peninsular where the first wireless signal was transmitted on 12 December 1901 and received by Marconi in Newfoundland.  It was well worth the top estimate of £700 that someone paid but that is a lot less than had it been a real item of such early radio apparatus.
Polish born Nottingham sculptor Witold Kawalec has practically no 'track record' at auction so the sale of sculptures from a Nottingham garden was bound to be interesting.  Against modest estimates of £200-300 the small abstract limestone carvings, which showed the effects of half a century's worth of exposure to the elements, sold for £450 and £200.  One of them had been broken into a number of pieces and restuck many years ago.  The prices were, I thought, respectable but one effect of this sale will be that his name will become better known and I predict the prices for his work will soon rise.
One Nottingham character whose fame is assured is motorcycling legend George Brough (1890-1970) creator of the Brough Superior motorcycle.  Had the pair of 9ct gold cufflinks belonged to you or me, they would have gone for less than £100 but George's, which he won as a prize in 1926, shot up to a hammer price of £3,000 paid by an English gentleman. I had set what I thought was a realistic estimate of £1,000-1,500 but one never can predict how something which is such a tangible link to so iconic a character will perform and, who knows, there may be another pair of 'Bruffs Cuffs' out there?
< Back to Auction Insights