Auction Insights
Rare Collection of Pinxton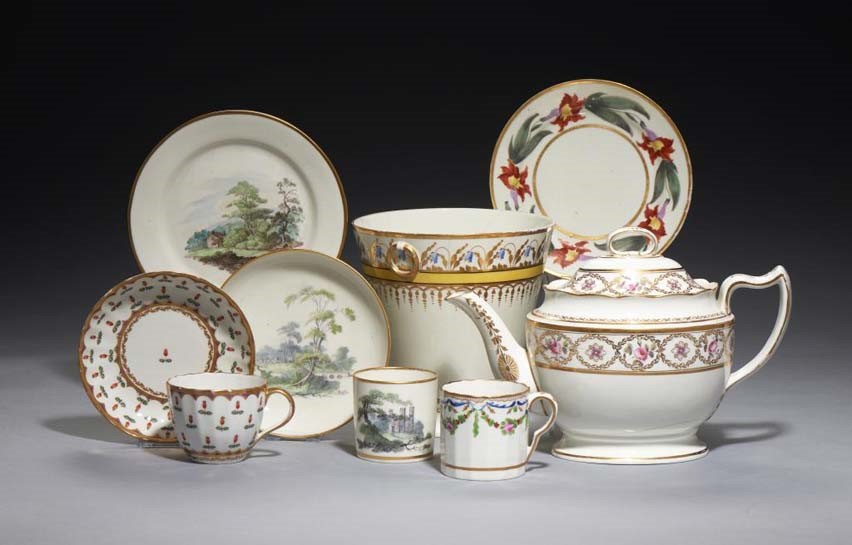 Paddy Scriven, OBE was a distinguished prison governor in a traditionally male sphere. She was also a friend and keen collector of Pinxton porcelain.  Following her recent death the entire collection she formed over 30 years will be sold by Mellors & Kirk on 19 & 20 September.  It is highly unusual for over 100 examples of Pinxton, Nottinghamshire's only historic porcelain factory, to be seen together.
It is a wide ranging representative collection of Pinxton's stock in trade tea and coffee cups and saucers, dessert plates, dishes, bowls and several rare ornamental wares.  Pinxton china is hardly ever marked so its identification depends on recognising the subtle differences between its form and patterns and those of its larger contemporaries.
Sometimes a piece will be found marked with a pattern number, occasionally prefixed by the letter 'P' which stands for Pinxton rather than 'pattern'.  The Scriven Collection includes a plate with the extremely rare mark 'Pinxton', the only such example I've handled for over 20 years.
In the history of English porcelain Pinxton was one of the smallest and shortest lived of all English china factories.  The outstanding quality of some of its rare and valuable wares makes Pinxton highly desirable.
It is found in major collections worldwide.  But the reason why Nottinghamshire's sole porcelain factory, which was only in existence from 1796 to 1813 is so famous is due to the genius of one man, the peripatetic William Billingsley (1758-1828).
Fortunately for the industry, but not for himself the highly influential Billingsley was a troubled genius.  Perpetually in debt and pursued by creditors, he created or was connected with, the finest English and Welsh porcelains, his odyssey beginning at Derby and ending at Coalport in Shropshire.
Billingsley was born in Derbyshire in 1758 and after working at the Derby porcelain factory he left to found, with landowner John Coke, the Pinxton factory. He set up as an independent porcelain decorator at Mansfield after only two or three years, which was to prove to be another short-lived venture. This pattern was to be a constant theme in his life, his poor wife and children in tow.
A brilliant painter on porcelain of flowers, especially the famous 'Billingsley Rose', landscapes and other subjects he was multi-talented, experimenting with the ingredients, firing and glazing of porcelain, producing a beautiful highly translucent ware with a perfect glaze.  It is instantly recognisable but rare because losses were enormous since the control of kiln temperatures was then largely guesswork.
Driving along the dual carriageway that literally cuts through the Potteries it is difficult to appreciate the once enormous scale of the ceramics industry in this its traditional home.
Elsewhere in Britain entrepreneurs in places that had no significant history of pottery making founded porcelain factories to compete with the market for costly imported 'china' from China.  At London (Chelsea and Bow), Bristol, Worcester, Derby and Liverpool, factories that would become renowned around the world, all came into existence between about 1750 and 1760.
The industrial revolution in the 18th century changed the face the Britain.  Men such as Josiah Wedgwood and Josiah Spode were as influential in the field of pottery as the Darbys were in iron founding and Richard Arkwright was in the textile industry.   
Traditional or cottage industries such as pottery making were transformed within a few years by inventions and entirely new theories, about everything from Government to God.
It is a real privilege to get to know and help a collector pursue their passion and ultimately be entrusted with its sale.  The only time I've been 'inside' was a result of Paddy's kind and unexpected invitation to visit HMP Foston Hall, the Broadhurst family's grand mansion built in 1863 on the site of an earlier house.  It became a Closed Female Prison in 1953 and Paddy oversaw the restoration of the mansion and beautiful grounds in the 1990s.  It was fascinating, but I have no desire to hear those enormous entrance doors close behind me any time soon!
Estimates for the collection range from £50 to well over £1,000 so there is something for both the collector and those that want an affordable example of this interesting local Nottinghamshire porcelain.  The catalogue of the Sale goes online on 6 September and the Pinxton Collection will be exhibited at The Auction House from Sunday 16 September.
< Back to Auction Insights