Auction Insights
The Collection of Alan Oakley Chief Designer The Raleigh Cycle Company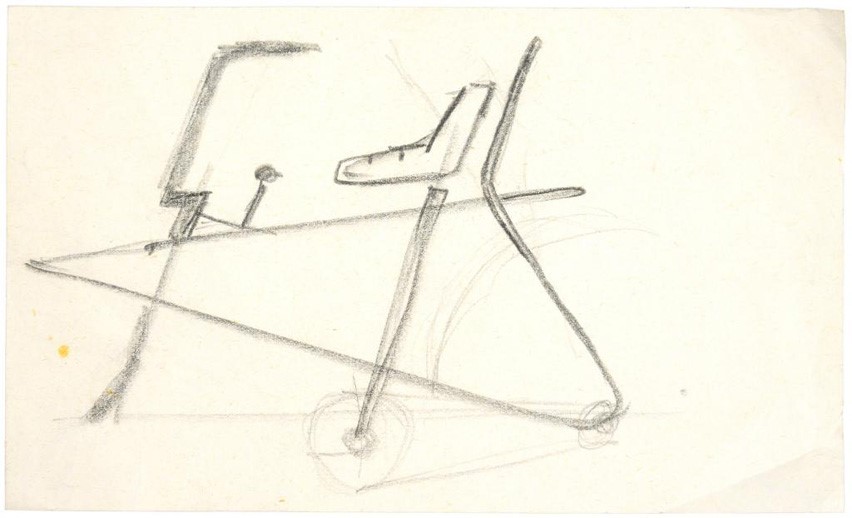 That's why this small drawing of the Raleigh Chopper by Alan Oakley is so interesting.
Alan, who died in 2012 was in charge of design at Raleigh in the era of the highly successful RSW (Raleigh Small Wheel) bicycle that culminated in the Chopper.  The Chopper was initially aimed at the US market and was inspired by the Schwinn Stingray, designed in 1962.   Launched in 1969 the Chopper was quite unlike any existing British cycle, an instant success that transformed the by then shaky finances of Raleigh, saving countless jobs at the factory and in the wider community.
Alan's widow Karen has decided to part with his fascinating archive of blueprints, documents (many marked 'confidential'), posters and brochures, several bicycles and parts and even his drawing board on which there is still a working design just as he left it. As she says, there comes a time when you just know it is right to let go.
Major holdings of other Raleigh records and memorabilia were deposited with Nottingham archives in 1983 and 84 and it would be highly appropriate if this material, much of it irreplaceable, were to join it there in public ownership.  But in a market where a well preserved vintage Chopper can easily make over £1,000 at auction it is bound to attract new appreciative potential owners from amongst the legion of enthusiasts and member of Chopper owner's clubs around the world. 
Alan spent his entire career at Raleigh.  Born in Netherfield in 1927 he started at the factory in 1941 which at that time was producing munitions for the war effort.  He trained as a bicycle trainee draughtsman and designer and by the time he retired in 1982 was a director and Head of International Design and Quality.
At 6'4" he stood out from the crowd, but always acknowledged his colleague's contribution in reviving Raleigh's fortunes at a critical low point in the factory's history.  Despite the success of the Chopper he received no bonus, which was not unusual in British industry at that time.
Particularly interesting for the historian are some of the letters and reports in the archive.  A number deal with the initial adverse media reports and safety concerns over the Chopper's high rider or 'ape hanger' handlebars, that rakish gear lever and futuristic 'banana' saddle.  There were even questions in parliament about it.
All good history involves controversy and the Chopper story is no exception.  The distinguished designer Tom Karen maintains that it was he, not Alan who had that light bulb moment, that flash of inspiration over the radical new design that became the Chopper, and also has drawings which he believes prove the point.  He does however fully acknowledge Alan's subsequent work in turning it into the phenomenal success it became, not least the Nottingham team's brainstorming session that dreamt up the brilliant name.
In poring over Alan's archive it is clear that he genuinely believed he originated the design.
The dispute has rumbled on for many years and was most recently aired in the BBC4 TV programme, Pedalling Dreams the Raleigh Story screened last August which featured both Alan's drawings and an interview with Tom.  The little sketch, no more than a doodle was made on a Heathrow bound Boeing 707 in 1967.
Both the Design Council and the BBC have been challenged over the rival claims and both have been unable to decide whether Alan or Tom deserves the credit.  As views of Fake or Fortune know, a not proven verdict is as clear as mud.  In one sense the issue matters little to anyone else because the Chopper was an unforgettable, iconic time machine that transports you straight back to the '70s.
Historic England recently announced that Raleigh's magnificent 1931 Headquarters (now the Malcolm Garvey Centre) on Lenton Boulevard has been listed Grade II.  This long overdue national recognition of a great Nottingham company, once the world's leading manufacturer of cycles – 'The Raleigh' coincides with British cycling celebrating its 200 years.  Historic England acknowledges Raleigh's importance in the local community for over 100 years and also its place in the history of race relations in Britain.
When he arrived on his first day at work on a dark November morning in wartime the factory was a hive of activity and it's no wonder Alan's first impression was one of bewilderment.  By the late 1950s with peacetime cycle production booming and new factory buildings springing up, Raleigh was to be immortalised as the setting of Alan Sillitoe's Saturday Night and Sunday Morning, one of the most significant films in the history of British cinema.  Arthur Seaton played by Albert Finney, couldn't wait to finish his shift at a Capstan lathe in the Raleigh machine shop and, with the possible exception of Liverpool, no other provincial British city has such a valuable and moving record of the reality of working class life in post war Britain.  The '60s and '70s was the era of innovation exemplified by a publicity photograph from Alan's archive of two young 'housewives' with their smart Raleigh shopper cycles outside a Nottingham butchers, in the window of which 'Hock Joints' are for sale at 10d (5p) a pound. Alan Oakley played a part in all of this for over 40 years.
< Back to Auction Insights