Auction Insights
Why the best things come in small packages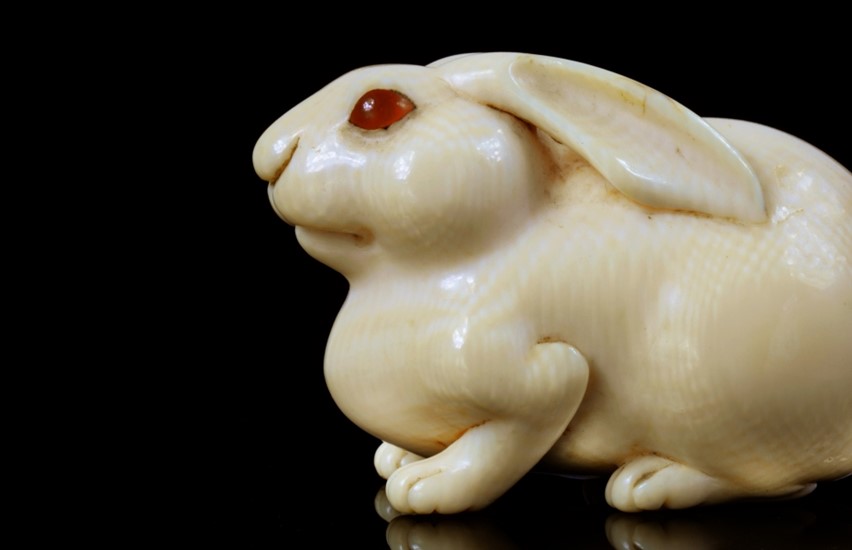 Valuable sculptures in miniature that go under the hammer at The Auction House next week are causing a stir in the world of netsuke collecting.  Nigel Kirk explains why the best things come in small packages…
If you don't know what a netsuke is (or are) there is a good chance you will know of the book The Hare with Amber Eyes by Nottingham-born author and artist Edmund de Waal. His brilliantly conceived and executed explorations as themes such as 'dialogues across time and space', installations and exhibitions defy explanation, yet in their black and white minimalist and apparent simplicity they are, in my view, some of the most significant contemporary works of art.  That is a sign of hope in a hopelessly overcrowded field where anything labelled 'Contemporary' sells.  Just look at the commercial and, shamefully, some of the publicly-funded galleries in towns and cities around the country – the 'Stuff' (for that is what it is) is, frankly over hyped and worthless rubbish at colossal prices.  Try re-selling one of these so-called works of art and you will be disappointed.
Not so, I suggest, with Mr de Waal.  A powerful influence on this sensitive creative genius is the sense of homelessness and exile.  His unexpectedly best selling book appeared in 2010.  It is the story of his once very rich family's exile during the Holocaust.  This gilded life in Europe was destroyed by the Nazis, the Gestapo seizing everything of value except, that is, for a collection of netsuke which a loyal family retainer secretly smuggled out of their former home under the noses of the Nazis.  One of them was the H,are which gave the book its title.
Netsuke are tiny Japanese carvings, some amazingly detailed that were originally intended to be used as toggles, securing the cords of a pouch that was worn instead of pockets in traditional Japanese dress.  By the 19th century any practical purpose had been abandoned and they became purely works of art.  They are found in wood or ivory, or less often in other materials.  Many are signed by the artist, some of whom seem to possess almost super-human ability.  Last November one example sold at auction in London for £220,000.
One of the highlights in Mellors & Kirk's two day Fine Art Sale on Wednesday and Thursday is a small group of valuable antique netsuke, one of which is another hare with amber eyes.  Dating from the 19th century it too was carved in Osaka and closely resembles Edmund de Waal's, which is now probably the most famous netsuke in the world.
The small collection was formed by a local man between 60-70 years ago and is being sold by a descendant. Several of his other netsuke include a Kyoto School squirrel, an amusing group of two monkeys with a giant persimmon fruit from Nagoya, a newly hatched chick, a particularly finely detailed quail on millet, also Kyoto, a terrapin, horse and an ebony frog.  My favourite is a lovely 4cm boxwood netsuke of baby hares or leverets, also carved in the 19th century, which should easily sell for £1,000-1,500.  A potential best seller is the sleeping tiger that is signed Tametaka. Dating from the 1870s it was carved at Nagoya and the estimate is £3,000-4,000.
Many people object to antique works of art made of ivory.  There is a real possibility that Parliament will soon impose a complete ban on the sale or exhibition, and who knows perhaps even the possession, of ivory antiques, such is the pressure to change the existing law, which allows the sale of those created before 1947.  This has undoubtedly caused owners to sell whilst they can but has depressed prices.  Yet despite The Hare with Amber Eyes being on the front cover of de Waal's book it won countless literary prizes and was an overnight international best-seller.  Ethics and aesthetics, like morals and taste are strange bed fellows! 
< Back to Auction Insights